Most of the customers are not informed of Voice Search Optimization. What is Voice search? NextGen Global services Pvt Ltd, says that exploring on a mobile phone is considerably comfortable with Siri or google voice. Their searches are quite chronic ones. For example- "Find a good salon near me". In this voice search option, the two principal keywords are a salon, and near me.
With the help of Voice Search Optimization, we can optimize the brand using keywords on the voice so that Google or Siri can update the option accordingly.
MAKING YOUR WEBSITE READY FOR VOICE SEARCH
In this ever-evolving digital world, strategies and technology need to be changed drastically and Voice search optimization is one of the most prevalent digital marketing services that can encourage the traffic bringing more sales to the brand. Since google searches have grown since last year, so optimizing the voice search is equally essential to target the prospective buyers on google on mobile sets.
HOW TO OPTIMIZE FOR VOICE SEARCH?
There are three different areas that could separate the search into three major genres-
Local
Mobile
Knowledge Graph
MOBILE: Mobile search is almost double for a few years. The mobile voice optimization plays a significant role in boosting the traffic into the website.
GRAPH: When your queries have mobile based search, then surely Google will fall traffic on the website automatically. It is always better to do voice search optimization from the experts at the beginning of the marketing cycle of SEO.
LOCAL: It is always seen that mobile searches always shows the results that have local optimized. They are strongly intended to show local searches first. In order to target the local customers, optimizing the local SEO and Voice search is very essential for mobile searches.
BOOST YOUR WEBSITE TRAFFIC WITH VOICE SEARCH OPTIMIZATION:
It is very powerful to have an online presence of the business and get it optimized. Many experts predicted that by 2020, 50% of searches on Google will on voice. And optimizing the voice search must not be avoided.
WITH THE VOICE SEARCH OPTIMIZATION PACKAGE, THE BRAND CAN ENJOY-
Page Analysis
Research (Keywords)
Content Creation
Implementation of Schema
Metadata & Date Stamp Optimization
Image Optimization
Heading Optimization
Featured Testing
Readability of Content testing
Dedicated Project Manager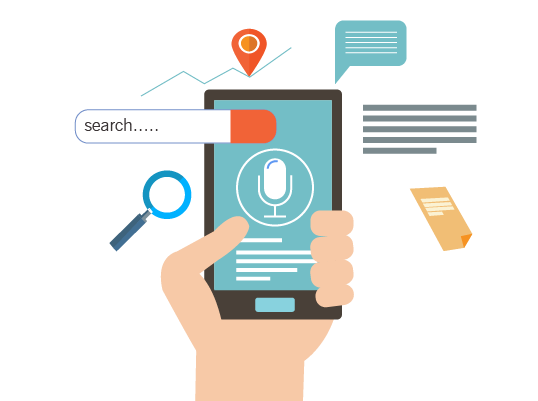 For more information, contact us now- +91-11-42371733 or mail us at info@nextgenglobalservices.com